Spring miracle – that is one possible name for wild garlic, with its exquisite spicy taste and positive effects on health. Storing this herb is no easy task, let alone preserving the important nutrients that it contains. Making pesto is one of the best methods to gain as much as possible from this marvellous herb. Take a look at our photo recipe for wild garlic pesto.
Ingredients
Freshly picked wild garlic
Nuts (walnuts, hazelnuts, cashew, according to your preference)
Olive oil (or linseed oil, hazelnut oil, etc.)
Salt
Chilli
Lemon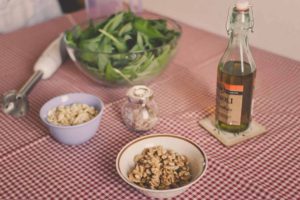 Preparation
Rinse wild garlic in a strainer under a stream of cold water, thoroughly. No heat or alcohol is applied to the herb when making pesto, so make sure to wash it properly.
Shake water off of washed garlic and let dry for a while. Put wild garlic in a tall container where you will blend it with a hand blender. If you have a regular blender, fill it with wild garlic leaves.
Start blending the wild garlic. You can already add salt, lemon and olive oil.
You can mix all of the ingredients, including ground nuts, together in a deep plate or bowl. Add as much oil as necessary so that the pesto does not come out too thick.
Store pesto in fridge and put it on e.g. pasta or salmon.
Bon appetit!