Health Benefits of Wild Garlic
Wild garlic is a delicious – but even more importantly – healthy herb that has helped people suffering with various conditions since times immemorial. Read on to learn about its benefits on health.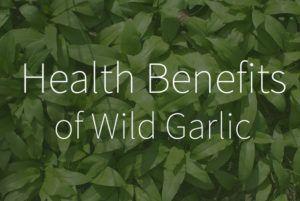 The health benefits of wild garlic were already known to our ancestors:
Wild garlic is an excellent cleansing agent. According to world-famous Maria Treben, wild garlic has many medical qualities, but the chief among these are its

detoxifying effects

. It should be taken

in all forms

throughout the month of April, so as to make your spring detox effective.

This herb can provide relief from various

stomach ailments

,

such as constipation, flatulence or chronic diarrhea. Maria Treben also lists its preventive effects against colon cancer.*

Ramsons or wild garlic is also recommended to patients with cardiovascular diseases. If you have problems with

high blood pressure

,

try adding wild garlic to your spring diet.

The same goes for painful

varicose veins

, which trouble many

.

Do you suffer from frequent

headaches

? Wild garlic can provide help to people with frequent migraines.

Wild garlic is also used in treating

upper respiratory tract infections

, such as asthma or bronchitis.

It is also a great

immunostimulant

for the spring season, when changes in temperature cause the human organism to be exposed to various diseases.

The strong spicy flavour of wild garlic can help you in getting rid of

parasitic worms

.
See also: Growing wild garlic
Sources: Maria Treben, Kaveyeats